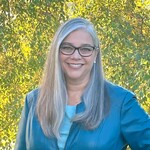 Diana Myers
Senior Instructional Designer / eLearning Developer at
RGA Reinsurance, Inc.
Hi All -  Since it came out, I've been in love with Tom Kuhlmann's Anatomy Slider - and based on the number of peopl...
Hi All! I help lead the St. Louis Articulate Storyline Special Interest Group (SIG), and I created this "Race ...
Hi everyone!  I've used Slide Background Fill on a variety of projects, and I think it's such a neat, but under-used...
Hi Heroes Community!  I fell in love with an animation in the Duarte 5 Rules presentation (slide 23), but I'm having...
My apologies if this isn't new to some, but I stumbled upon a neat Phrase Generator site yesterday.  The site describ...
Hoping some of the wonderful Storyline brains can help me answer an odd question.  Which is the true text size settin...
Hello Wonderful Storyline Staff - Let me start by saying how awesome it is to have such a robust cast of illustrate...
I volunteered to gather some winter trivia questions for my son's 4th grade classroom end of term celebration, and I ...