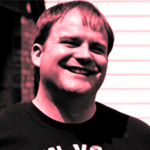 Eric Matas
Creative Director at
Mortimer James Media
About

Eric Matas

Eric is a media strategist and publisher. He is Editor at eLearning Weekly Magazine.
For a few months now, I see an audio issue -- randomly -- where audio just cuts out somewhere random during the play ...
Hi - I need a slide and it's layers to save their state (stuff like visited buttons). And, learners can leave that sl...
Hi - Anyone know how to make sure there is no scroll bar (vertical) when inserting a video, using a web object? Even ...
The principle players: IE8, server behind firewall, link in Sharepoint to SL file We plan to roll out changes, but wi...
We've got a Story that should play on an iPad, using a browser. It loads and gets started, but then every button is a...
There is a good tutorial on making a counter using a variable here: http://community.articulate.com/tutorials/product...
Hi - I've published SL for HTML5, but not the articulate player. I wonder if there is a way around the first bump on ...
We're running into a not supported error in IE8. It'd be great if the html files did not need to be edited since they...
Has anyone tried to track SL use outside of an LMS? I am not so much talking about completion or quiz score, but that...
A client has one of the latest editions of SharePoint, 2007 or 2010, and they want to use Storyline for a project. Is...
Disclaimer: for a non-Flash publish! Hi - I wonder if anyone has played with a "live" background at all in Storyline....