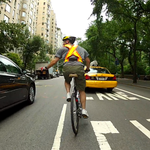 Allan Dunlop
Director at
The Center for Cycling Education
Saskatoon, Saskatchewan, Canada
Hi, everyone. I want to list the names of each scene, and each slide within them, for all of the .story files that ma...
Hi, Team. Here are the settings that come up when a new trigger is created: Action: Jump to slide Slide: Next slide W...
I'm wondering if anyone has some ideas that can help me get past a roadblock. I have a course that consists of sever...
Re: http://community.articulate.com/tutorials/products/confirming-that-users-are-ready-to-submit-their-answers.aspx ...
I'm looking to do some very basic top-view traffic simulations (vehicles traveling through intersections, etc.--anima...
Is there a way to insert an image in a text box, and have the text flow around it? (Similar to the 'float' function i...
I've got a course that's comprised of fourteen stories, and my slide masters are getting unmanageable. Each story use...
Is this is possible? I've got a course comprised of about ten separate Storyline files, each having a quiz consisti...
Is there a Storyline feature allowing learners to provide feedback for a specific slide in a course? Ideally, I'd lov...
I've got a course in which all of the slides have a narration for the text, and some slides that have videos with a s...
This is something that's been vexing me for some time. I'd like to have my quizzes (the original display, and not the...
Hi, Team! For some reason, the slides in the player menu appear to be hyperlinks (with a gray background on mouseove...