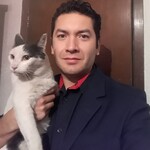 About

Daniel Albarran

I´m an educational psychologist, instructional designer in academic and corporate projects, and enthusiast follower of Tom Kuhlmman `s tips.
Hi everyone, I need your help. When I publish my course, something goes wrong. I explain my problem with these pictur...
Hi, how can I publish an interaction in the e-learning Heroes site? It asks for a Course URL (see picture); where do ...
This is a suggestion: add a warning message if an object is hidden in the timeline, something like: "One or more obje...
To the SL development team: I´d like to suggest two additional modes in the preview button: Preview next five sli...
I explain my problem through pictures. Help!
Let´s supose:  My course has a slide with an activity, let´s say sorting mammals and reptiles. The user solved th...
Hi,I´d like to know some practices on how to administer, deliver, follow and close courses among learners of an organ...
Hi, I downloaded and installed the latest update (Update 10—Build 1607.1221). I wonder if this update covers previou...
Hi, many captions in my project have a shadow that I can´t remove. Why?  I don´t want to apply the format brush (fro...
Hi, in a quizz result´s slide, I want to know how the variables count the correct answers. When I open the variables,...
Hi, in a software simulation I am creating (test mode), I want text entries being very flexible, for example, that th...
This tutorial shows a technique for creating any illustration using a powerful (though sometimes ignored) tool in Pow...