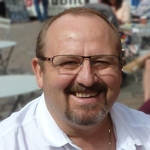 Paul Williams
Systems Trainer Specialist at
Oxford University Hospitals NHS Trust
Hi all, I've built some assessments using Storyline, which are working fine, BUT...  as they are based on users inter...
Hi all, Can anyone help me with an issue? I've got text entry boxes within an assessment, which recorded with a def...
Hi all, I've set up a quiz, which is fine, but if I leave the 'review quiz' option in there, and post up to the LMS, ...
HI all, could anyone adise me please? I have a test which all users go to, but depending on their role,they follow s...
Hi, Can anyone help me with an issue I have with an assessment? The user is asked, as part of the assessment to elect...
Hi all, I'm just after some advice on how to set up a trigger.. I have two streams of study going on, up to a point w...
Hi all, How can I have a multi response question which the delegate should get right, but doesn't actually have to kn...
Hi, I'm new to Articulate, and I'm trying tow ork out how I can show users a screenshot of a software homescreen and ...