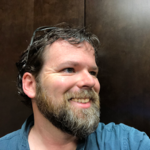 Daniel Mitchell
Instructional Design Specialist at
Rush Enterprises
Help, please! I'm not sure what I'm doing wrong with this results slide. Visually, users are getting the variable nam...
Not a serious problem by any means, just a humorous occurrence with the Content Library :-) Try searching the term "v...
For context, I'm a long time user of Storyline (Have used 1 through 360. Currently 360). I know how to change backgro...
I'm attempting a custom menu slide with 6 chapters in SL360. I have set a Disabled, Highlighted, and Visited state on...
Note: I have submitted a feature request on this issue, and hopefully this won't be a problem in the future, but in t...
I've built a simple, 20 question quiz. The project requirements ask that the users be able to navigate forward/backwa...
This question isn't specific to any Articulate products, but I knew that this community is full of awesome heroes, so...
I have a long audio clip (5 minutes), and will be inserting portions of that clip on a series of slides (5-30 seconds...
Recently published a Storyline2 course with lots of interactions, tutorials and try-it scenarios. Our course includes...
I'm doing some basic editing of existing courses that were originally built in SL1. These courses include a ton of te...
I can't seem to search the forum at all. Even simple wide-open searches such as "video" or "slide" do not find any re...
Good morning, Heroes. I'm building a very interactive software simulation, and need to allow the user to press Backsp...
I'm building an interactive storyline based on screen captures from SAP. In one SAP screen, I need the users to be ab...
Is there a way to replace an object or image without having to re-attach all of the triggers associated with that obj...