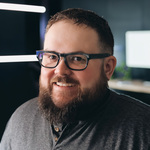 Mike Jones
Learning Experience Designer
About

Mike Jones

Masie Center 30 under 30 alumnus and Instructional Designer, specializing in eLearning and multimedia. Passions include music, technology, & life-long learning.
This is my submission for the third ELH Challenge, and draws inspiration from the original Ghostbusters film.
This is my entry for the second ELH Challenge. I designed a 5-tab interaction, introducing the Situational Leadership.
This is my entry for the first Articulate eLearning Heroes Community Challenge. In it, learners compare cuts of steak.